Farmer-led Research Symposium
Interested in Farmer-Led Research? 
Join us for the Farmer-Led Research Symposium!
Monday December 3: Learn about the information generated this year by EFAO farmers in cooperation with the Farmer-led Research Program including low-till and no-till veggies, organic pesticide management, soil health and cover crops and more; network with farmer-researchers and fellow on-farm research enthusiasts at a casual reception; and brainstorm and plan for future research projects. What do you need answered on your farm to move toward more ecological farming practices?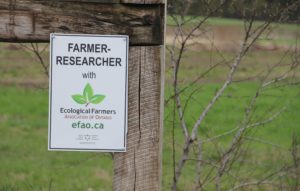 This year's Farmer-led Research keynote speakers are Jan Libbey and Tim Landgraf from One Step at a Time Gardens in Kanawha, Iowa. With over 23 years of experience growing organic vegetables and pasture-raised poultry, Jan and Tim are also leaders in on-farm research. For the past several decades, Jan and Tim have conducted research trials in cooperation with Practical Farmers of Iowa, including numerous variety trials, economic analyses and energy budgets. More recently Jan is the founding ED of a local food hub, Healthy Harvest of Northern Iowa (www.healthyharvestni.com).
Please note that the Farmer-led Research Symposium registration is open to everyone.  It is not included in full conference registration, so select this as a separate option during your conference registration.
Detailed schedule to come.
FARMER-LED RESEARCH SYMPOSIUM
MONDAY DECEMBER 3
9:30 AM – 10:30 AM
Arrival and check-in
10:30 AM – 12:30 PM
Farmer-led Research Symposium
12:30 PM – 2:00 PM
Lunch and keynote
2:15 PM – 4:00 PM
Farmer-led Research Symposium (continued)
4:00 PM – 4:30 PM
Break
4:30 PM – 6:30 PM
Farmer-led Research Symposium (continued)
6:30 PM
Reception
UP