It's official: this year's Ecological Farmers of Ontario Conference has artwork to illustrate the theme 'Resilient Agriculture: Our Soils, Our Systems, Ourselves.'
As the 3rd Annual Ecological Farmers of Ontario Conference heads out East for the first time, it is fitting that this year's conference artwork literally paints a picture of the farming community we are excited to highlight! The Artist, Bree Rappaport, painted real farmers from the Kingston farming community to capture the essence of the conference theme. Bree tells us that this piece is based on a Kingston farm landscape and features the portraits of Kingston-area farmers.
More about the artwork, in the words of the artist:
"The inspiration for this painting came from the theme for this year's conference; Resilient Agriculture: Our Soils, Our Systems, Our Selves. This summer was hot, and dry. I chose to immerse myself in the heat when painting this work. Referencing from real life, I carried my painting and supplies onsite, from my families' backyard to Howe Island, Root Radical and Double Jay farms, an Organic Vegetable CSA and Dairy Farm. In a way I painted from the Dowling families' backyard, to my own. My studio was mobile.
Once the summer progressed and I spent more time on the farm, my initial goal of realistically painting my subjects shifted, to capturing their spirit. Once I made this decision my strokes became more loose, and my painting practice felt more free.
Faces tell so much about an individual. Every portrait apart of this painting belongs to someone within my local farming community. I collaged the images of the portraits within the landscape. By this, I visually illustrated the connection each individual has to the land and to one another. I chose to use vibrant greens, earthy browns and rich royal blues to honor the vibrancy of those farmer's and the supported community. Although my color choices did not match the crisp yellow grass fields during this summer's drought, they express the resilience, and brilliance of the landscape.
This painting was made outside. I chose to paint it on a wooden board, and treat its surface with a weather protective paint. I wanted this painting to take on the theme for this year's conference on more levels then just the surface. It is not a delicate piece, it will not be ruined by the rain, or smudged by dirt. It can be shown outdoors."
More about the artist:
Bree Rappaport is an emerging Kingston born artist. Her art work is rooted in drawing and painting, she views community actions such as DIY art shows and backyard farming as a large part of her painting practice. "Bree's work engages the viewer to think more about the "subject" – she often focuses on people."
Currently she has surrendered to the fact that she could never live with out incorporating social practice within her art. Drawing inspiration from the words of art critique Claire Bishop Bree finds – "ART IS THE UNNECESSARY NECESSITY."
She is currently living in Toronto , attending OCAD in the Drawing and Painting BFA program.
To see more of her work, visit her website.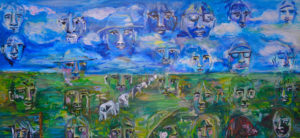 Posted September 19, 2016 in: Event by Katie Baikie
---