New this year are the Tuesday full-day intensive workshops.
All workshops run 9:30am to 4:30pm, including a break for lunch (included in registration.)  Registration for these sessions is available separately or as part of the Full Conference Pass.  More information here.
Building Healthy Soil and Profit with Planned Grazing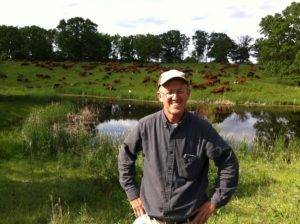 In this workshop Greg will be discussing the methods they have used to take worn out bankrupt soil farms and turn them into profitable grazing operations using livestock as the primary tool. Watering methods, fencing designs, timed grazing methods, finishing beeves on pasture, leasing land and marketing methods will also be discussed.
Presenter: Greg Judy
This workshop generously sponsored by Brussels Agri services and Gallagher Fencing.
Multi-species Cover Crops and Low-till Strategies for Field Crops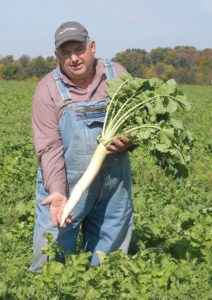 While in-season crops feed people and animals, off-season cover crops will feed the soil.  Join Dave Brandt as he delves deep into multi-species cover crops as a way to increase soil fertility and crop yields, control weeds and limit soil erosion in the field.  He will discuss how to determine what cover crop mix will work best for different farms and farm practices. He will also talk about his own no-till field crop practices that can increase organic matter, eliminate soil compaction and increase water filtration.  You won't want to miss this day – your soil will thank you!
Presenter: Dave Brandt
This workshop is generously sponsored by the Ontario Soil and Crop Improvement Association (OSCIA).
Operating an Intensive, Non-mechanized, No-till, Agroecological Vegetable Farm
We'll take an in-depth look at Singing Frogs Farms' intensive, no-till, agroecological systems for establishing and maintaining vegetable beds and fields, including how to establish no-till fields, how to transition from one crop to the next, and the basics of managing an intensive, no-till system. Then we'll explore other tools in our no-till tool box: the practical application of the latest in soil science to protecting and regenerating our soils, the purpose, creation and application of compost, and the contextual factors affecting whether to use mulches, and of what type. To close it out we'll touch on agroecological practices that enhance your vegetable production. Learn how to design and establish various 'ecosystem services' that will benefit your soil and water resources as well as your crop quality and management.
Presenters: Paul & Elizabeth Kaiser
Integrating Seed Production into a Market Garden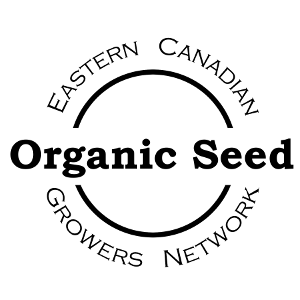 Join us for an in-depth look at how seed production can be a part of your market garden.
The day will begin with a crash course in seed saving, focusing on topics like what the best seed to start saving might be, what is plant taxonomy and why it is important for seed production.  We will then discuss plant reproduction styles, isolation, population sizes and rogueing.  Then move into some of the basic skills and techniques for harvesting, cleaning and storing seed.
The afternoon will focus on how seed production can be a part of a larger market garden/farm operation.  We will talk about farm layout and season and why these are important.  Then discuss selling seeds and how this relates to other farm sales.
Bring your questions, as there will be lots of time for discussion.
Presenters: Dan Brisebois and Rebecca Ivanoff
This workshop is offered in partnership with the Bauta Family Initiative on Canadian Seed Security and the Eastern Canadian Organic Seed Growers Network (ECOSGN).
Secrets to Success for New Farmers: An In-depth Look at How Three Farms Continue to Thrive
In this full-day intensive workshop, new farmers will have the chance to get up close and personal with three successful ecological farm businesses that have stood the test of time. Find out what key decisions, risks and changes have shaped the course of their farm businesses, while gleaning details about their costs of production, marketing strategies, choices for labour and scale, and financial management. If you've survived the first few years of farming and are looking to strategize and plan for the future, this session is for you.
Presenters: Dave Alexander, Emily Board, Graham Corbett, Robin Turner
This workshop is offered in partnership with Everdale and generously  sponsored by TSC.