The Trade Show is now FULL
If you would like to inquire about possible booth space, email Katie at katie@efao.ca.
View the 2019 Conference Sponsorship and Tr
ade Show Package.
Trade Show Hours
Wednesday December 4: 8:00am to 6:30pm (Reception 5:00pm to 6:30pm)
Thursday December 5: 8:00am to 3:30pm
Trade Show Exhibitors
Please feel free to be in touch at conference@efao.ca or 519-822-8606 for more information.
What past exhibitors are saying: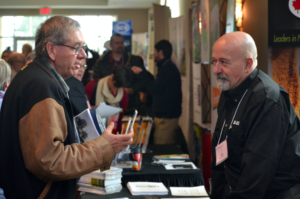 "Attending the EFAO trade show was a great way to gain exposure with a wide range of farmers. Being able to hear their concerns first hand and chat in person helped create that personal connection that we value in our business."
"As an exhibitor — this trade show/conference has been incredibly welcoming and conducive to really fantastic conversations with open and honest dialogue. Trade show set up and use of space to encourage interactions with exhibitors really well done."