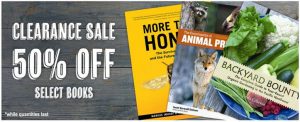 Earth Haven Learning Centre is pleased to offer a 50% savings on selected book titles purchased through our website.  There is a wide range of titles from farming, gardening, livestock, soil, composting, greenhouses, permaculture, organics, biodynamics, food and so much more.
The winter is a great time to spend more time indoor and what better way to occupy one's time than with a good book.  Learn a new skill, technique, growing method, and get yourself better prepared for the next growing season.  Our selection of books are great for anyone wanting to start their own farm or garden, expand their knowledge or just simply become inspired.
Introducing the 2021 Celestial Planting Calendar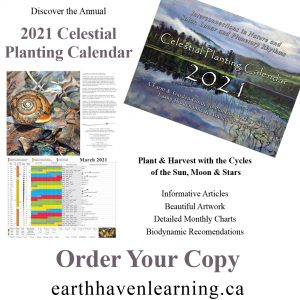 The seventh edition of the Celestial Planting Calendar focuses on the interconnectedness in nature, with monthly charts based on the teachings of Maria Thun.  There are several interesting articles at the front of the calendar and a basic explanation of how these monthly charts are created at the back. The exceptional artwork by Aleta Karstad brings balance t
o the more scientific aspects of this year's calendar.
The articles on fungi by Linda Harvey and lichens by Troy McMullin briefly explore the incredible value that these organisms bring to nature. With increased awareness, each of us can begin to discover and appreciate this hidden realm.
Lorraine Schmid's article on Lunar Wood highlights the importance of harvesting quality wood by paying attention to the seasons, Moon phase and zodiac Earth signs.  These subtle yet significant tips are part of a time-honoured wisdom that has been passed down from generation to generation. The art of fencing by Alf Buffam also captures those oral teachings.
Titia Posthuma's article reminds us how inclusiveness is a key component in nature. She takes the overall theme of interconnectedness and shares her stories that support this theme.
Glennie Kindred's article on celebrating Earth's solar cycles reminds us of how ancient cultures honoured these cycles and how in present time we can celebrate these key turning points.
Gary Caton's two articles, one on Mercury's six conjunctions with the Sun for any calendar year, and the other on eclipses, in particular the Annular Solar Eclipse
 on June 10, enable a deeper understanding of the powerful influences of planetary alignments on agriculture.
As we grow our own food and follow the solar and lunar cycles, the more mindful we become of nature's connections with the cosmos, thereby gaining a deeper appreciation for food and food vitality.
In this calendar you will learn how to plant and harvest using the cycles and rhythms of the Sun, Moon, Plants and Constellations. Best days for root, leaf, flower and seed are colour coded for easy reference.  The back pages of thecalendar give specific instructions on how to use and interpret the monthly charts.  Place your order today and receive your calendar just in time for Christmas gift giving or to help plan out your 2021 growing season.  A great compliment to farmers and gardeners that like to spend the winter contemplating and planning for the upcoming growing season.
Multiple copies of the planting calendar are available to resellers at a discounted price.  Shipping charges will apply.  These calendars are great to sell at farmers markets, Seedy Saturdays, bookstores, and other farming and gardening events.
Contact earthhavenlearning@gmail.com to place your reseller order
---
Related Sessions