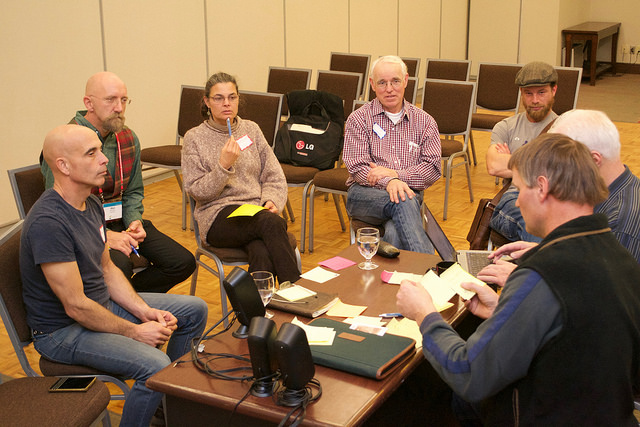 Open forum sessions are an opportunity for you to host a workshop at the conference, in a free-school style. 
Is there a gap in the program that you think you can fill?  Is there a special skill or innovation that you can share with the group?  There will be a chance for you to sign-up or suggest at the conference, but you can also email a suggestion in advance to conference@efao.ca.
Current Open Forum Suggestions:


Strategic Planning for the Sector Toward a Strategic Alliance on Local Sustainably-grown Food
Facilitated by Thorsten Arnold
Spectacular I, Thursday 8:30-10:00am
Ontario's sector of sustainable and ecological agriculture has still not managed to work under a unified strategy and vision. Currently, several nonprofits offer similar services and compete for small and diminishing funding opportunities. The growth of our sector remains far behind what would be necessary for saving Ontario's soils and ecosystems. SustainOntario, an organization originally instigated to serve as an umbrella organization ten years ago, has not lived up to its initial mandate to coordinate, strategically position and lobby for the sector. Instead, our sector organizations are fighting for survival in an uncoordinated manner, greatly relying on volunteering and often at great individual costs. While the Province of Ontario started distributing $2 Billion per year to promote climate-friendly industries, the ecological farming sector has been unable to benefit from this new funding pot. We forgo a tremendous opportunity to grow our financial basis and our overall impact. A strategic alliance of local food organizations could lobby for the ecological farming sector, because this sector offers a climate-smart food system and deserves more and better recognition by policy makers and funders. A provincial organization like EFAO plays an important role in such an alliance. On this panel, we would like to discuss concrete steps toward working together as a sector of diversified, ecologically oriented farms, by streamlining our organizations for maximum impact.
Cultivating Presence
Facilitated by Seb Ramirez
Spectacular I, Thursday 1:30-3:00pm
Farming is a transformational process. Join me for an engaging, thought-provoking conversation around how transforming ourselves can have a profound impact on achieving what we want in our lives and on our farms.  In the last 5 years I have been immersed in a series of self-transformational workshops offered in my local community.  These workshops have given me insights and tools to observe and influence my thought patterns and behaviours; things that previously went un-recognized and unchecked.By observing these things, I feel that I have much more power and control over the unhelpful thoughts and behaviours that detract from my quality of life and my farm. By doing this work I am becoming a better farmer, a more active community member and also a better version of myself. Come join me in a conversation about how you can start to integrate this work into your life too.


Agricultural Training/internships in Ontario
Facilitated by Kristine Hammel
Spectacular I, Friday 1:30-3:00pm
Aspiring farmers and others need hands-on learning opportunities on farms. However, with increasing scrutiny of internships, offering such valuable learning opportunities increasingly places the farmers in a precarious and tenuous position. What can we do going forward to provide great learning experiences to aspiring farmers, protect our own legal and financial position, while fostering a fair exchange of training and work/compensation? Come join the conversation!