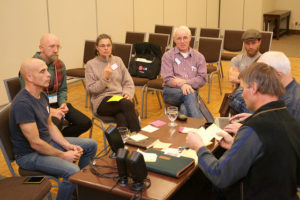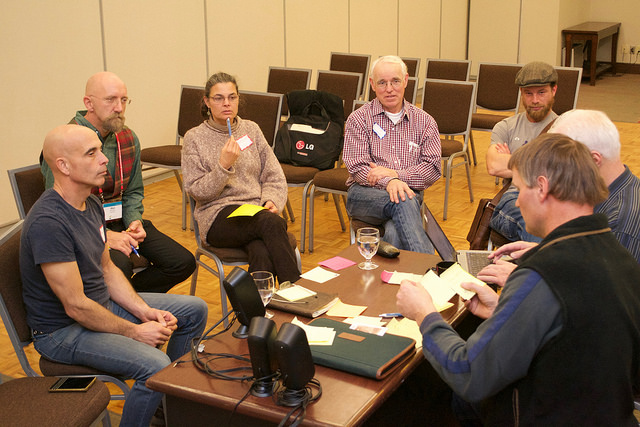 Community meetings are a great chance to share and network at the conference. Email naomi@efao.ca if you are interested in organizing a community meeting at the 2017 conference in Collingwood.
2017 Community Meetings:
Producer Focus Group: Transitioning to Organic Production
Canadian Organic Growers
Friday December 1, 12:00pm-1:15pm

Canadian Organic Growers has spent the last few months working with farmers like you to identify the main costs and barriers involved in transitioning to organic production. Now it's time to validate our findings—so we need to hear your story! You should attend our focus group if you:
are interested in transitioning to organic;
started to transition but stopped;
have completed transition successfully;
have been organic from the start or
are a producer that wants to tell us how we can support transition.
Please join us at our producer focus group to discuss transition! Outcomes of this work will benefit organic and transitioning farmers across the country. Thank you for being part of the solution! Save your spot at the table—RSVP to rachael@cog.ca.
Get the Dirt on your Value Proposition
South Georgian Bay Small Business Enterprise Centre
Friday December 1, 12:00pm-1:15pm
An informal yet interactive 'Community style Meeting' in which you will meet like minded entrepreneurs and have amazing, authentic conversations about things that matter to you and your business in a lightly facilitated environment.
The core areas of focus for this session are to explore, using the customer discovery model, a view of your business from the perspective of 'the jobs the customers want to be done'. From this we'll guide the discussion toward identification of your value proposition and making sure you are delivering the right message to your customers.
This session is ideally suited to small batch / newer Ecological Farmers and Producers that sell business to business and or business to consumer.
Building a Network of Local Food Advocates
National Farmers Union
Friday December 1, 12:00pm-1:15pm
Many of us are connected to communities or professions that have special influence over the decisions made by eaters and institutions. We want to bring together Local Food Advocates in fields like healthcare, education, the arts, and faith communities.
By working together, we can support local food and help make our communities healthier, fairer, and more connected. And we can help local farmers to thrive while protecting biodiversity and the climate. This year, the National Farmers Union – Ontario is bringing together people from many fields who care about local food and its ability to help us solve problems. Together, we have the power to build a stronger and more sustainable food system in Ontario.
Northeast Committee Meet and Greet
Friday December 1, 12:00pm-1:15pm
Calling all northerners! Join the Northeast Committee for an informal lunch meeting to get to know other northern Ontario farmers and make plans for workshops, field days and kitchen table meetings in the north for the coming year.
Vegetable Farmer & Seed Grower Consultation: Variety Needs Assessment and Consultation
Friday December 1, 12:00pm-1:15pm
Every year more and more vegetable farmers are integrating seeds onto their farms. The next step towards building a resilient regional seed system is to create new varieties that are adapted to local farming conditions. The Bauta Family Seed Initiative is planning to launch Canada's first participatory plant breeding program on vegetables in 2018. The first step towards creating new vegetable varieties is to talk to farmers about the varieties they would like to see! This session is a consultation that is open to all vegetable farmers – whether you grow seed or not – to discuss the qualities of your favourite varieties, the characteristics you would like to see for new vegetable varieties, and how you would like to save seed from them, or improve them to create new varieties on your farm.
Consulting on Bill 153: The Ontario Organic Act

Organic Council of Ontario

Friday December 1, 12:00pm-1:15pm
Ontario currently does not regulate the use of the term "organic" on products that are traded within the province and that do not bear the Canada Organic Logo.  The Organic Council of Ontario partnered to introduce Bill 153, the Organic Products Act, with two MPPs from the NDP and PC parties this September.  The bill will be going to second reading in November.  While we support efforts to close regulatory gaps in the province, we need to engage with producers to build an appropriate and equitable solution. This session will outline legislation currently being considered by the Ontario government and engage participants in a consultation on how best to ensure fair and transparent labelling while assuring small-scale farmers are not overly penalized or burdened.  Come share your feedback on a made-in-Ontario and small-scale appropriate solution!