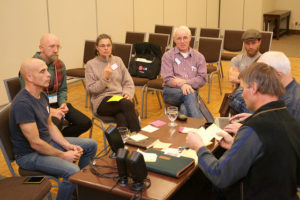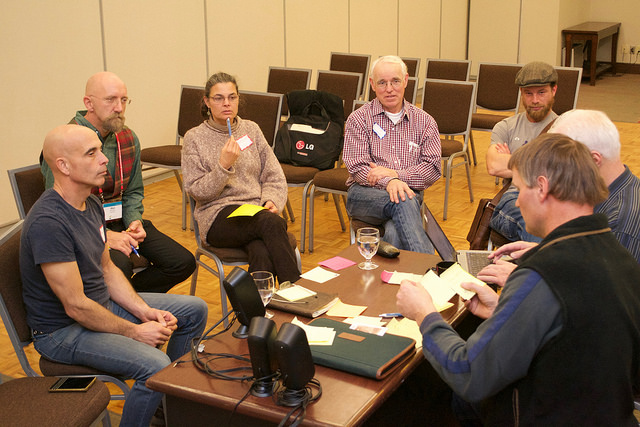 Community meetings are a great chance to share and network at the conference. Email naomi@efao.ca if you are interested in organizing a community meeting at the 2017 conference in Collingwood.
2017 Community Meetings:
Get the Dirt on your Value Proposition
South Georgian Bay Small Business Enterprise Centre
Friday December 1, 12:00pm-1:15pm
An informal yet interactive 'Community style Meeting' in which you will meet like minded entrepreneurs and have amazing, authentic conversations about things that matter to you and your business in a lightly facilitated environment.
The core areas of focus for this session are to explore, using the customer discovery model, a view of your business from the perspective of 'the jobs the customers want to be done'. From this we'll guide the discussion toward identification of your value proposition and making sure you are delivering the right message to your customers.
This session is ideally suited to small batch / newer Ecological Farmers and Producers that sell business to business and or business to consumer.
Building a Network of Local Food Advocates
National Farmers Union
Friday December 1, 12:00pm-1:15pm
Many of us are connected to communities or professions that have special influence over the decisions made by eaters and institutions. We want to bring together Local Food Advocates in fields like healthcare, education, the arts, and faith communities.
By working together, we can support local food and help make our communities healthier, fairer, and more connected. And we can help local farmers to thrive while protecting biodiversity and the climate. This year, the National Farmers Union – Ontario is bringing together people from many fields who care about local food and its ability to help us solve problems.
Together, we have the power to build a stronger and more sustainable food system in Ontario.