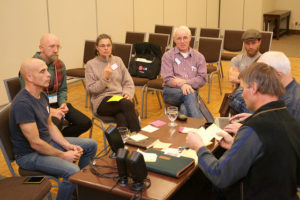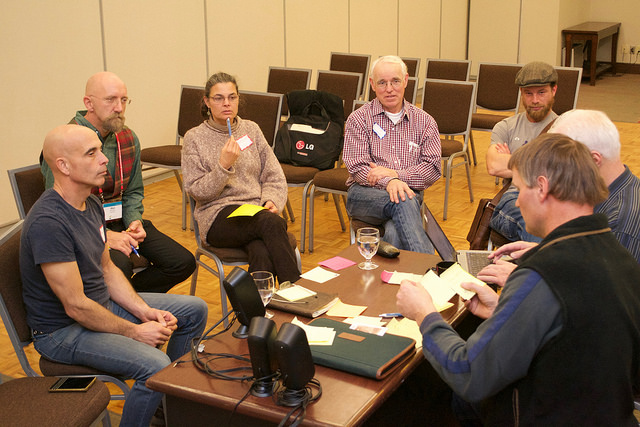 Community Meetings for 2018
New and Young Farmers Meeting and Mixer – Tuesday December 4th, 7:30pm
Join us for a fun evening of conversation with and about new and young farmers in Ontario. Give input into EFAO's new farmer programming, celebrate the end of the season, meet up with old friends and make some new ones! Cash bar and light refreshments will be available.
Seeds of Diversity Canada AGM – Tuesday December 4th, 7:30pm
Join Seeds of Diversity's members, board of directors, and staff at our annual meeting. All are welcome, no charge. Refreshments and conversation about our favourite topic — seeds!
Farmer-led Research Information Sessions – Tuesday December 4th, 7:30pm and Thursday December 6th 12:00pm
Curious to know more about farmer-led research? Want to know more about the 2018 research trials?  Stop by to chat with EFAO staff about your questions, your ideas or your project proposal.
EFAO Member Engagement Brainstorm Session – Thursday December 6th, 12:00pm
Join EFAO staff to discuss ways to engage new and existing EFAO farmers in 2019 and to celebrate EFAO's 40th Anniversary.  Bring your ideas, suggestions and inspirations.
Eastern Canadian Organic Seed Growers Network Community Meeting – Thursday December 6th, 12:00pm
ECOSGN started as a community of seed growers in Canada looking to address the training gaps that exist for seed growers in Canada. Now, with the support of The Bauta Family Seed Initiative, more and more farmers are trying to figure how to integrate seed production into their operation. Come to this meeting to talk about how we, as a farming community, can support each other in learning how to conserve, improve, and create new high quality Canadian seed.
Collaborating for Change – How can organizations better support a progressive agricultural paradigm? – Thursday December 6th, 12:00pm
This meeting brings together concerned farmers and organizations interested in a paradigm shift toward agroecology. The meeting will begin by outlining commonalities in vision, programming and communication. Organizations will be invited to suggest further ways to collaborate, address activity gaps, support each other in communication efforts.
The goal of this session is to convene two task forces: one that works toward coordinating the activities of agroecological minded organizations in order to streamline efforts and increase impacts, and one that works toward partnership with like-minded environmental organizations who share EFAO's vision of:
An Ontario where thriving ecological farms are the foundation of our food system, and where agriculture protects our resources, increases biodiversity, mitigates climate change, and fosters healthy, vibrant communities.
Farm Succession for the Younger Generation – Thursday December 6th, 12:00-1:15pm
Are you living with and/or farming with your parents or involved with farm succession? Come talk about what has worked and what hasn't!