This year's theme – Regeneration: Seeds, Soil and Community Connection – speaks to the desire of farmers to build a kind of agriculture that is regenerative – that improves the health of our soils, supports a regionally adapted seed supply,  and fosters resilient farms and communities.
Collaboration with ECOSGN
This year's conference promises to be the most far-reaching conference theme yet, as we join forces with the 4th biennial Eastern Canadian Organic Seed Growers Network (ECOSGN) Conference. ECOSGN is a group of seed producers that has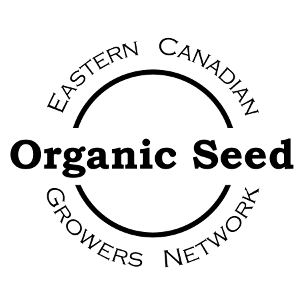 been supporting seed training in Eastern Canada for over a decade.
In addition to an entire stream dedicated to seed production, Keynote speaker Rowen White (Seed Keeper from the Mohawk community of Akwesasne and Director and Founder of Sierra Seeds) will talk about Indigenous seed systems, how they have contributed to the seed diversity we have today, and how ecological farmers can work with Indigenous communities to support the re-indigenization of seed.
Meet the Conference Artist: Caitlin Taguibao
"I am an illustrator, graphic designer and mural painter based in Toronto. I enjoy working with people who share similar ideas and interests in food growing, environmental stewardship and community engagement, and have spent time working in urban gardens and organic farms across Canada. I use flat colours and bold linework to create colourful compositions based out of plant lore and personal stories.
In response to the theme of "Regeneration: Seeds, Soil & Community Connection," I wanted to reflect on the cyclical nature of growing while highlighting soil life and soil diversity. Various characters interact with a spinach plant shown at different stages of life: from seed to sprout, to first leaves, growing upwards and then flowering to produce seed. 
All the while, a community of soil bacteria and critters actively exist below the ground; mycorrhizal connections are made under a waxing moon; a butterfly searches for late summer blooms. No human character is shown so that viewers may find themselves reflected in any of the living beings that are depicted, at any stage of the cycle, so that no role may be seen as more important than another but rather equally acknowledged and celebrated."